More Chiropractic Reviews
Kelly and Susie Y.'s Interview
Why did you seek chiropractic care?
Susie
: I had been having back and hip pain for years, probably related to a fall at work. It was beginning to affect my knees and ankles and feet too. I was at a point where I needed to try something new.
Kelly: Because my wife dragged me in. No, in all honesty, I used to see a chiropractor while in High School. My parents have seen one for the longest time. My lower back is messed up (carrying 600 lb. beams by oneself is not advised). Last summer I had slid off a cabin roof and injured my shoulder. Needless to say, I need work done.
Susie
: My biggest fear was that it was not going to help at all. -Susie
Kelly: Not at all. I am actually relieved to have a reason to continue care. If it wasn't for my wife Susie needing any help she could get, and wanting me to drive her to Dr. Sullivan, I probably wouldn't be going (I am a boy/man, so I am supposed to suffer the pain, Right?).
Susie
: I am not sure I mentioned it to Dr. Sullivan, D.C., but as soon as I met her, and she completed my first evaluation, I was at ease, and knew I was on a path to help heal my body.
Kelly: Dr. Sullivan, D.C. has a way of explaining what is going on with the bone alignment.
Susie
: I have done several rounds of physical therapy, anti-inflammatories, but mostly I had accepted I would live with the pain for the rest of my life.
Kelly: Ibuprofen helps, but that is all I use. I am not the one to go for any meds unless I am forced to, and most time not even then. More than anything, I do a lot of stretching.
Susie
: I am moving better, the pain has significantly been reduced, I can tell when I need to see Dr. Sullivan, D.C. for a re-alignment.
Kelly: My lower back is still in need of a lot of work, but I am experiencing greater range of motion in my shoulder.
Susie
: I don't get as tired as I did before treatment, nor does my back and hip start hurting as quickly as while doing physical activity, climbing stairs, lifting heavy items. I also feel more flexible, and don't wake up stiff in the mornings.
Kelly: Nothing. The pain is less and range of motion is way better though.
Susie
: I feel like my health is on the up and up. I am more conscious about what I put into my body as well as my posture through the day, and I am having less pain. –
I can't say enough how happy I am with the care I am receiving from Dr. Sullivan, D.C.. She is kind, compassionate, and knows her stuff. I love that she takes the time to explain anything you need explained, as well as imparts tidbits of healthy wisdom through e-mails and information at each appointment. She also takes the time to work on other problems that may arise, for example, she has been helping with adjusting a knee that I twisted. I also appreciate that she can see my husband and I at the same time, because it helps simplify our busy schedules.
Kelly: I concur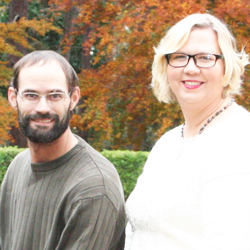 It's a Miracle!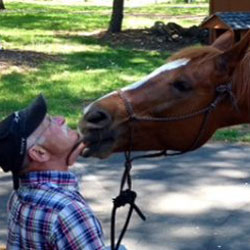 It's a "miracle!!" It's a miracle I tell ya!! I have had back pain for some time. I saw my doctor who gave me pain pills. They helped as long as I took them but they upset my stomach so I decided to stay with the pain.
I went to a chiropractor. I saw him several times and the pain didn't get any better. So I asked him how many more visits did he think that I needed until I was better? His comment was, "Maybe one hundred."
Needless to say, I quit him and went back to my pills. All this took place six months ago. About two weeks ago it all started all over again. Mucho back paino!!! I took my pills and they did help, but then I thought why not call Lynne Sullivan. She has her practice near my home, I met her through Gold Country Trails Council and we ride together, so what the heck.
After Lynn finished with me (I know that doesn't sound quite Kosher) after only six visits, I have zero back pain. I am riding and skiing and lifting heavy objects again and am feeling like a youngster. So all I have to say is Lynn Sullivan is a miracle worker for me. I thank her for getting me back to where I wanted to be, feeling no pain. I highly recommend her to anyone with back pain.
– Irv M.
Highly Recommended
Dr. Sullivan, D.C.'s office is comfortable and she is extremely professional and efficient. She came highly recommended by our previous doctor. I came for neck, shoulder and lower back pain. With Dr. Sullivan, D.C.'s care, these are much better and I am able to move and walk. I even have more energy. My husband and I are both happy patients.
– Collen and Tim Sands, Board Trustees, Sutter Auburn Faith Hospital
---
Sullivan Chiropractic Reviews | (530) 718-4102